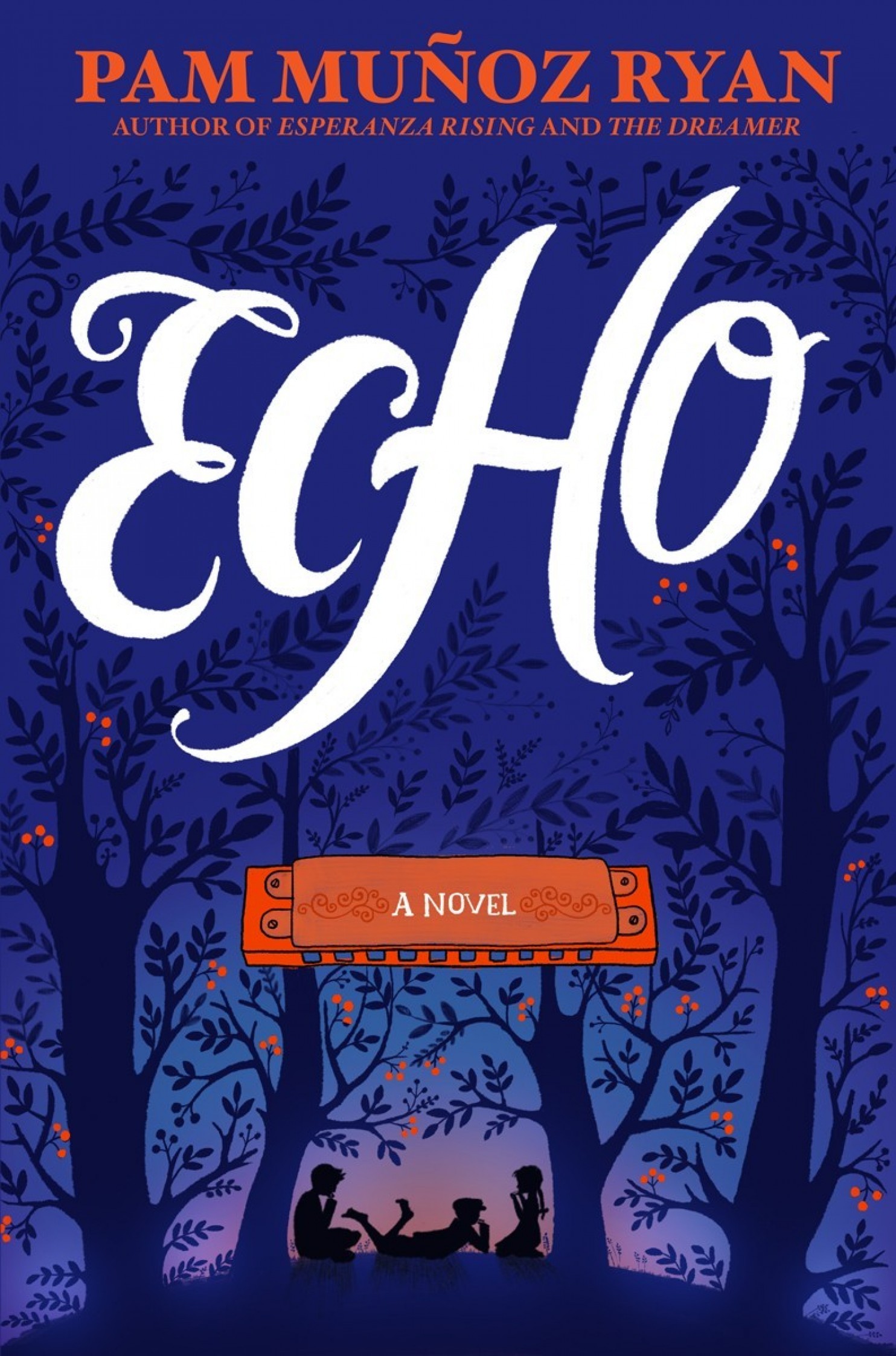 I first heard about Echo when Pam Muñoz Ryan came to speak at my fall residency last November. Our focus for that residency was on writing for children – more specifically on the fairy tale – and our book in common was Ryan's Esperanza Rising. During her visit, Ryan shared with us a bit about her upcoming book, Echo. My interest was piqued immediately, and I've been anticipating the book ever since.
First, although the cover and appearance of a book is something the author has little to no control over, it's been proven that the cover of a book really does affect the way potential readers perceive the contents. That won't be a problem for Echo. The dust jacket is  beautiful in reds, blues, and purples, with black and white accents. The board cover is enchanting, a pale wood that closes over bright red end papers. (I love good end papers.)
Second, there are many stories within Echo, but if the book is about one thing the most obvious answer is an enchanted harmonica. Who doesn't love harmonicas? It's even a pretty word.
Third, is what I mentioned above: Echo is one book, but it contains many stories. There's Otto, a young German boy who finds himself inside a fairy tale in the woods; Friedrich, who must try to get himself and his family out of 1933 Germany due to a birthmark that covers his face; Mike, who tries to get himself and his orphaned brother adopted from the orphanage together during the Great Depression in 1935; and Ivy, whose family moves to a new farm in southern California to take care of it while the Japanese owners are held in a 1942 war camp. Each child is connected by the love of music, and each story by the thread of a single, enchanted harmonica.
With so much story, this middle-grade novel comes in at nearly 600 pages – but don't let that hold you or your child back. The stories provide convenient breaks in the action, and the new characters will keep readers engaged. The pages are not crowded, and I found them turning swiftly. This book is a wonderful entry into conversations about Nazism, orphans, and segregation, but it can also be enjoyed simply for the stories it provides. I would recommend Echo to anyone who loves music – there is much love of music here, for everything from the cello to the piano to the harmonica.
I really love Echo – and I think you will too! If you'd like to read more about it, click here to read an interview Pam Muñoz Ryan did with Horn Book.
Review: Echo by Pam Muñoz Ryan