When my last semester started I sort of left this blog hanging on the subject of our home renovation. Because, well, we left our home renovation hanging. But here's the final update on the kitchen and master bedroom.
We painted the kitchen walls Behr Yellow Wax Pepper – PPU9-13. The faux brick wall at the end is the same Perfect Taupe as the bathroom and Caleb's work room.
The dining nook.
The inside of the white cabinets are that same Taupe color, too.
Finished kitchen – with cabinet doors! And new hardware! They didn't get hung until just before Halloween. We spray painted the old hinges black, but the knobs and pulls are new from Home Depot.
Our bedroom upstairs has been the longer process. When we pulled off the plastic we'd covered the vents with to refinish the floor, the tape pulled some paint with it. (Which was fine.) But under the paint was the homeowners mortal enemy: wallpaper.
You read that right.
Luckily, some friends of ours own a steamer, which made the job go so much faster. (Which was still excruciatingly slow.) We had to steam every part of the wall twice, once to get the latex paint to peel off, and once to soak the wallpaper.
Once steamed, the paper came off like a dream – but the upper half of our bedroom walls are slanted. (Not fun.) Finally, I scrubbed all the walls twice – once with glue remover solution, once to clean them off. They looked so much better already!
We painted the long walls which slant up into the roof in Crepe – PPU7-19, and the short walls in Mushroom Bisque – UL140-10. (Both colors are Behr.) Whala – the last finished room!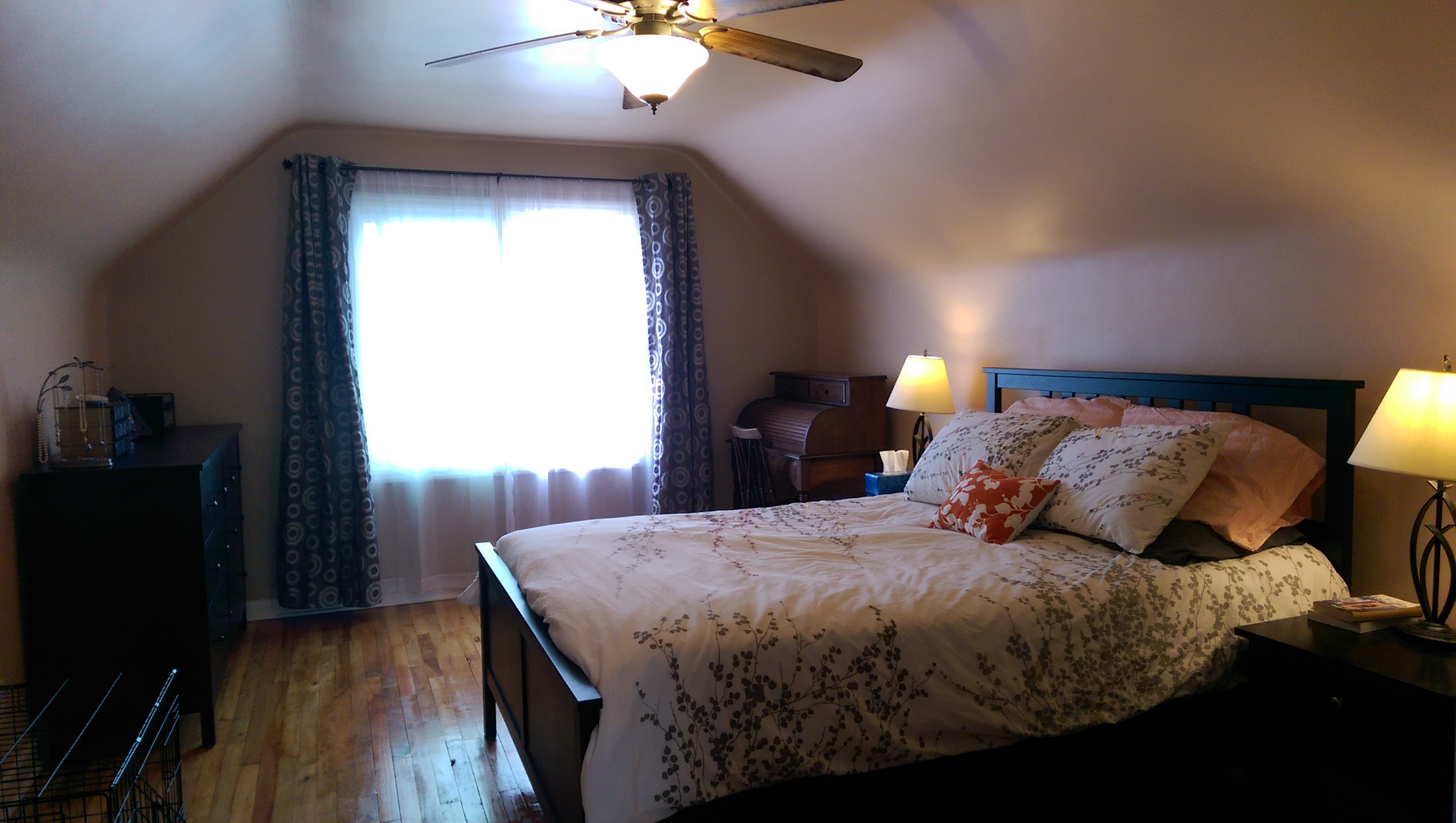 Thus ends the largest, most time consuming portions of our Southwest Michigan home renovation.
Here's how the other rooms look now that we've moved in and cluttered them up. The living room is one of my favorites. I'm so happy with the colors.
You can see a few photos of my finished library here.
Thanks for following our journey! To see lots of before, during, and after pictures for these and other rooms, check out this post, this post, or this one.
Hickory Brick House Update