Springtime brings so much with it from a bounce in your step to a breeze in your hair to a song in your heart. There's a feeling that can only be described as spring, or perhaps the longing for a true spring on sunny February days before the cold has completely gone like we are having now. What can we do when we want spring so badly but we can't have it quite yet?
We read, of course! If you're itching for the perfect book to read this spring, a book that will sing of the season as you do, try the ones below.
The Iridescence of Birds: A Picture Book about Henri Matisse by Patricia MacLachlan – This picture book about Matise is full of delicate springtime colors that make me want to sing like the birds. The entire book is only two sentences long, but it is lovely in its simplicity and delightful in its message. Parents and educators will also appreciate the educational component as the book explores the life and works of Matisse in the most poetic way imaginable.
On Meadowview Street by Henry Cole – I'm not sure this book is too well known, but I think it should be someone's life goal to change that. This picture book follows a young girl who grows tired of the grassy green lawn at her house that looks just like the grassy green lawns of all her neighbors. Nothing much happens in her lawn, and it isn't very interesting. All that changes when she convinces her father to leave part of the yard to grown the next time he mows. From there she decides to plant a tree and even put in a pond. The family's boring old yard quickly becomes a beautiful park, as well as the envy of all the neighbors – who begin to plant trees of their own. Again, the educational element of this book makes it a great pair for learning about ecosystems or permaculture.
The Chronicles of Narnia: The Lion, the Witch, and the Wardrobe by C. S. Lewis – Nevermind the snowfall on the cover, this is my number one book for springtime. Why? "Wrong will be right when Aslan comes in sight. At the sound of his roar, sorrows will be no more. When he bares his teeth, winter meets its death. When he shakes his mane, spring shall come again."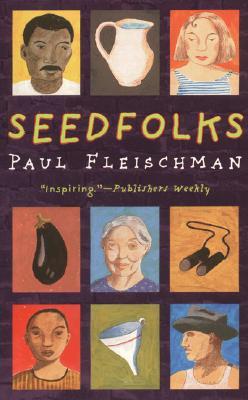 Seedfolks by Paul Fleischman – I think I have mentioned this book on the blog before, but I just love it so much! This tiny book tells the big story of how a community garden is begun and cultivated in a vacant city lot. Each chapter follows a different character and the book truly shows the value of our connection with the earth and with each other.
The Secret Garden by Frances Hodgeson Burnett – A list of springtime books would be incomplete without this classic. I love my copy of Mary Lenox's story like an old friend, as I remember the wonder with which I read it for the first time. That first desire for a bit of earth in the spring which is the rain falling on the sunshine is etched in the memory of many children, for in no season more than spring are we aware of the Magic all around us. This beloved book tells the story of the awakening earth and the awakening heart.
I Capture the Castle by Dodie Smith – This book makes my spirits soar in the same way the spring does, which means I've probably talked about this one on the blog before, too. Everyone should read this charming story, but especially writers. To read Cassandra's diary is to meet a friend and have long, late night conversations with her, finding that you are alike in all of your fears and aspirations.
Favorite Books for Spring