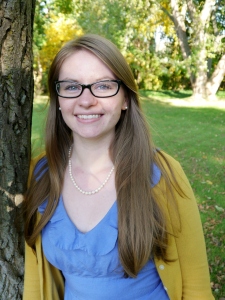 I am a graduate of the Low-Residency MFA in Creative Writing program at Spalding University in Louisville, the best MFA program on earth, and I live with my husband Caleb in Southwest Michigan.
I post writing and videos on my blog here at emilyvanderark.com. Most of the entries are pertaining to my two favorite things: books and writing! You can also check out my Goodreads page to see what I'm reading now.
My writing crosses several genres. In my portfolio, you can find links to my published fiction, essays, and poetry, as well as links to blogs and journals where I am or have been a writer or editor. My passion is writing fiction for children and young adults. Currently, I am seeking representation for OH, AVERY, a middle-grade novel about what happens when a girl who is afraid of bees is hired by her mom's new boyfriend – a beekeeper – so she can earn the money she needs to buy a ticket to the Beatrice Bot convention.
My other passions are hiking, camping, exploring new places, gardening, knitting, and my crazy beagle mix Juliet O'Haira.