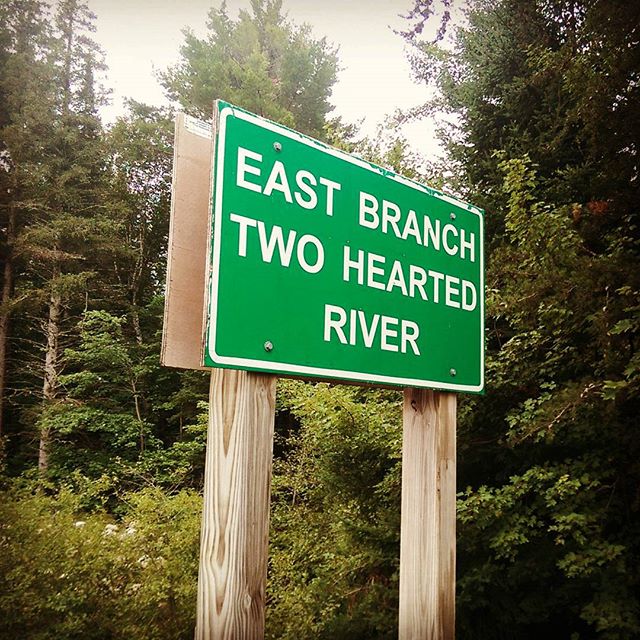 "Why did I listen to you? I was going to take the other road. You have no sense of direction." (This is true.)
"You weren't listening to me, you were listening to the GPS. This is the road the GPS said to take!" (Also true.)
"I wasn't going to listen to the GPS. It thought that other road connected to something and it didn't. It stopped in the middle of nowhere." (Frightening.)
We were in the Upper Peninsuala of Michigan, alone. We had food, a tent, and other survival equipment with us in the car, but we were running low on water. The road before us was packed dirt, rough like a series of speed bumps one after another after another. We had no phone signals, and there was no sign of another human being for miles. If our little Toyota Camry got stuck in one of the low places made muddy from recent rain, we would be on our own.
Over Labor Day weekend, we put the dog in the kennel and set out on a grand wilderness adventure. From our home in southwest Michigan we drove to St. Ignace on the north side of the Straights of Mackinack. Our first day didn't feel so remote: we had beakfast in town and toured around Mackinack Island on bycicle and foot. There were no cars on the island, of course, but there were plenty of people.
That changed on day two when we packed up camp and drove west along the coast of Lake Michigan. It seemed people only lived out there so they could sell us homemade pasties, jerkey, slim jims, and smoked fish, knit us cosy mittens, and sell us gas. The main road – which we were on – was paved, one lane each way, and lined by nothing but lake, sky, and trees.
We reached Pictured Rocks and hiked eleven miles through true wilderness. "All good things are wild and free," they say, and that was certainly true of this place. After our hike we drove for hours along a winding, unlit road, watching lightning in the sky above the forest tunnel that surrounded us. We were in search of food, and found it, in the tiny town of Grand Marias on the coast of Lake Superior. But we were keenly aware that the brewery we'd found was likely serving the only food availible for hours in any direction.
We kept on that night to Tahquamenon Falls, camped, and enjoyed both the views and the hot food availible at the upper falls in the morning.
Which brought us to the dirt roads.
Our plan was to travel farther north up to Whitefish Point to visit the Great Lakes Shipwreck Museum before heading all the way back home. But we'd seen a sign not too far back for the Big Two Hearted River recreational area.
English major and literature junkie that I am, I'd brought a copy of Hemingway's collected stories specifically for this opportunity.
So we backtracked a bit until we found the sign, and we followed the arrow.
Little did we know, the arrow was pointing miles back to the mouth of the river, which was hours of gravely dirt county roads away.
We drove until it became obvious that the sign had not been pointing to something nearby. There'd been a small bridge over a branch of the river, so we decided to go back there, snap some photos, and call it good. Time was beginning to weigh on us, and we still wanted to get up to the Point. So we plugged in the GPS and punched in our destination.
We were hours away. But the GPS found another route, one that shaved off about half the time.
"Oh, the GPS says to turn here,"  I said.
And Caleb turned.
And it was the scariest drive of my life. The adventurousness of our trip faded away as I thought about what it meant to be in the middle of the wilderness I often long for.
If something went wrong, no one would see us. No one would stop to help. And we could not call anyone.
I truly realized for the first time how dangerous travel was for generations before us, with their horse-drawn carriages and minimal supplies. As I gripped the handle of the passenger door and prayed while we bounced over the uneven road and took turns too fast out of fear that if we slowed down, we'd get stuck, I would have given anything for a glimpse of asphalt.
We made it out, thanks to Caleb (who does have a good sense of direction) and made it through the rest of our trip without mishap. But I will never look at a "County Road" the same way again, and travelers beware of what the sign for the Two Hearted River on MI 123 doesn't say – miles and hours of dirt road, this way.)
Oh, but I got my photos.